5 Interactive Toys To Keep Your Kitty Entertained For Hours
5 Interactive Toys To Keep Your Kitty Entertained For Hours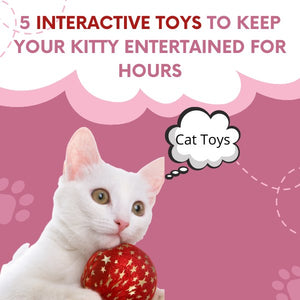 Cats are favorite pets because they are easy to keep. Unlike dogs, cats might not demand much attention like dogs. However, that doesn't mean they don't like to play. Interactive play is good for their brain and fitness.
But what if you don't have spare time or simply suck at playing with your kitty? Don't let your kitty stay lonely and bored. Fortunately, there are lots of interactive toys to keep them busy.
Apart from engaging your cat and entertaining them for hours, interactive toys help solve problematic behaviors that your cat may exhibit. It can be scratching, aggression, or destructive chewing.
If you plan to shop cat toys online, you might find the many product options overwhelming. So, we'll help you by pointing out some of the best cat toys to help your kitty fight boredom by themself.
Rotating Suction Cup 'Windmill'
If your cat likes to spin things around, the Rotating Suction Cup 'Windmill' by Pet Life is a multi-functional cat toy that is the perfect choice. The toy is designed with two great features; a rotating windmill and a cat grooming brush.
It is ideal for pet parents looking for pet chewing and biting remedies as the middle part is equipped with special ridges for face and gum massage and brushing teeth. The ridges are constructed using soft TPE material to ensure your cat is safe. You can apply gels or toothpaste on the ridges to clean the cat's teeth, removing plaque and tartar seamlessly.
The toy has two catnip balls on one end and an LED lightning ball on the other end, which glows, attracting the kitty. At a swipe of a paw, the toy spins, providing a fun and engaging experience for your cat.
With its small size, the toy is portable and easy to handle. It's also easy to use; simply locate a place where your cat likes to play, and stick it on the surface. It has an excellent suction cup that grips surfaces like tubs, windows, glass, or tile.
Customizable 10-in-1 Attachment and Laser Teaser 'Wander-Cat'
This interactive toy adds adventure into your kitty's life by providing an all-in-one cat teasing experience. The Wander-Cat Teaser has seven different interchangeable tops each with unique shapes. It also has three feathers which connect to the heads offering your kitty several teasing options.
For easy handling, the toy is also designed with an extended wand of 14-24 inches. That means you can use it while sitting or standing. The wand has a built-in-low-frequency laser that your pet won't stop chasing around. Together with the customizable ten pieces attachment, expect full control with numerous cat teasing options.
It is powered by 2-AAA batteries offering around three to six months of battery life. Other key features you'll love about this toy are its modern sleek design and curved durable grip handle that offers you convenient and easy control.
Plush and Rubber Squeaking Newborn Teething Cat Toy 'Totty-Chew'
The Plush and Rubber Teething Cat toy is one of the best cat toys that'll keep your newborn kittens amused and entertained for hours. Apart from soothing sore gums, this toy teaches them proper chewing behavior, keeping them from nibbling with your furniture.
It is designed with a soft, plush, durable cotton material that produces a squealing sound when chewed. At the center is a rubberized chew stick with a tube shape embedded with bumps and crevices that massage your cat's gums and provide oral satisfaction, perfect for the cat's teething stages.
Besides, the toy is easy to clean, machine washable, and comes in various colors. And despite its simple design and affordability, it is packed with enough features to keep your cat entertained and improve its dental hygiene, which is all you need in a toy designed for a teething cat or kitten.
Pet Life 'KITIQUE' Cat Teaser
This interactive toy features a special 3-in-1 extendable and retractable wand designed with a low-frequency laser pointer at the bottom. It has a conveniently placed button that releases an extendable rope when pressed.
The rope's end is fitted with a pom-pom and a feather for entertaining cat teasing. There is also a 17-inch stainless steel neck that extends to minimize reach-over when the cat is playing and has a laser pointer that enhances teasing enjoyment.
It has a modern and durable design and a compact body, making carrying it around easy. Plus, it comes with 2 - LR44 batteries to last for about four months.
Kitty Cat Puzzle Interactive Teaser Toy 'Kitty-Tease'
If your cat likes to knock stuff off shelves or play around with household items, getting a cat puzzle toy might keep them out of trouble. Cat puzzle toys are a great way of engaging the cat's brains, its natural instincts, and exercising its body in a fun way.
The Kitty Cat Puzzle is among the best Interactive cat toys that comes equipped with a ball and teaser at the end. The cat plays with the inner maze ball, chasing it from side to side using its paws as they plate with the fathered cat teaser providing more engagement.
It is built with rubberized traction grips for extra durability, and inserting the ball is easy. So, you can easily set it up in no time and watch your cat have a good time.
Which is The Best Toy for My Cat?
The ideal toy for your kitty depends majorly on its habits and temperament. Cats like to climb, scratch, pounce, and chase. However, your cat might engage in various behaviors or lean on one behavior more than the other.
So, you may have to buy more than one toy depending on your cat's preferences. But to avoid making the wrong choice, be sure to speak to your vet for expert advice on how to keep your cat entertained healthily and safely.
Conclusion
Toys can help stimulate, exercise, and reinforce good behavior in your cat. Interactive toys are particularly important for enhancing your cat's cognitive ability as they enjoy these other benefits. But with hundreds of such toys available, picking the best cat toy might be challenging. With the help of this guide, you are on your way to picking a reliable interactive toy that will keep your feline friend safe and entertained for a long time. Go ahead and try any of these toys and let your cat enjoy amazing play sessions.