5 Best Dog Harnesses for Every Sort of Dog
5 Best Dog Harnesses for Every Sort of Dog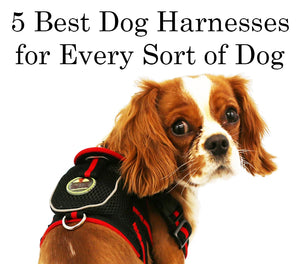 One of the most often used dog accessories behind a leash and a collar is a dog harness. While the most common way to walk your dog is with a collar it simply isn't strong or comfortable for your dog. For most situations a dog harness is better suited for your dog than your average dog collar.
Pit Bulls, German Shepherds, and Labrador Retrievers are known to tug and pull their owners while they are walking. Dog collars can and will put serious strain on their neck which can lead to choking and potentially damaging your dog's neck.
Harnesses alleviate the major flaws and concerns regarding the safety of your pet. While teaching your pet how not to pull on their leash is a separate concern, using a harness while teaching is a safer alternative.
Our Top Quick Picks
The Dog Helios Journey Wander Dog Harness & Leash Combination comes with everything you need for a great harness. It simple, easy to put on, and you'll know which way to put it on every time. Since it is a combination it comes with a reflective stitched leash with a titanium swivel hook connector.
The Dog Helios Bark-Mudder Dog Harness & Leash is the best harness we have to offer. If you are looking for comfort, we ditched the straps and replaced it with Velcro. This ensures a snug fit while reducing irritation that can be cause from traditional harnesses.
Safety Concerns with Collars
Safety is our main concern and while collars are usually cheaper, they come with serious risks. Here are 5 ways collars can harm your dog
Strangulation: Dogs can snag their collars while jumping over a fence or even a window latch. Anything that can potentially grab their collars is a hazard. If something similar happened while your dog was wearing a harness the potential for choking is severely reduced.
Limb & Mouth Injuries: Apart from the strangulation issue a loose collar can grab on to their feet or mouth. In both circumstances your dog can dislocate or even break their foot and jaw. Dogs are also known to get their teeth stuck in collars when they are too loose which can also cause missing teeth.
Skin Problems: The constant rubbing of the collar on their neck can cause irritation and skin conditions when they are too tight. This rubbing can also cause hair loss on the neck like along with even cutting into your dog's neck. This can also cause infection if the collar is on for long periods of time.
Neck Damage: The neck is a very sensitive area and repeated strain on it can lead to damaging the thyroid glands and tissues in the surrounding area. Damaging the wind and food pipe while aren't common but are a possibility so why take the risk.
How to Choose the Right Size Harness?
While we list our sizes in inches on our website there are a lot of variations in sizes between manufacturers. A simple example is that our large size might be a medium elsewhere and vice versa. There are 3 simple measurement that you need to find the exact fit for your dog.
While we offer free returns, measuring your dog will save us and you the time of having to ship your brand-new harness back.
To assure the best fit for your dog you will need 3 measurements the lengths of the base of neck to the base of the tail, this is known as the "back". The other measurements you need are the chest size and the neck size.
When measuring your dog's chest find the largest area of their chest and wrap the measuring tape behind their legs. This is the most accurate way to check their chest size.
When you are ready to measure your dogs, neck find the largest part which is at the base of the neck and wrap the measuring tape in front of their legs for an accurate measurement.
If you are still unsure how to measure your dog here is a quick step by step guide.
What Breeds Benefit Need Dog Harness?
While you may not think that your dog will benefit from a harness, most dogs will. Granted that if you own a smaller dog the benefits of owning a harness is less than an owner of a Pit Bull. This doesn't mean that there aren't any additional benefits to owning a harness there are just some breeds that will benefit more from having a harness.
Collie: Collies are a large and popular breed of dog with their large coats finding a collar that fits them properly is a challenge. Since they have so much hair owning a harness is a great alternative since it will relieve the pressure along their neck. Also, when it is hot outside a collar is restricting which can cause your dog to overheat if they can't pant properly.
Mastiff: These are large powerful dogs that we feel needs a harness. These dogs have very large necks which is hard to find an appropriately sized collar. Another issue is that their necks tend to droop having that extra skin rubbing on a collar isn't a good idea.
Great Dane: These dogs have slender necks and a larger ribcage. With all that power behind a Great Dane their necks aren't the best place to secure your dog. Since they have slender necks in comparison to their bodies purchasing a smaller than need sized collar can occur.
Bernese: The Bernese is in the same boat with Collies. They are a large energetic breed with a large coat which can be difficult to find a correct sized leash. The dogs like to play so try to get a durable dog harness for this one.
Pit Bull: As we mentioned before these dog love to pull and putting that extra strain on their neck can severely damage their neck and surrounding tissue. We also would advise if you have a pit bull who tugs on its leash see out a dog trainer. This will make your time walking with your fuzzy buddy more enjoyable.
Labrador Retriever: Labradors are large and powerful dogs that were bred to retrieve. It goes against their natural instincts being tied down to a leash and are known to pull their owners from time to time. While labs can be trained easily not to pull its safer to go with a dog harness instead.
Rottweiler: Rottweilers can easily use a harness these giant dogs are known to pull at any given moment. If you have a collar gaining control over a Rottweiler is difficult whereas a harness will cause you less issues in the long run.
5 Best Dog Harnesses For Every Sort Of Dog
The Dog Helios Freestyle 3-in-1 Harness comes with a leash and has detachable backpack for long hikes.
It is a double compression harness that you can eject the backpack at anytime when not needed. Plus, the backpack has a waterproof shell and zippers to keep everything inside dry.
The Pet Life Dumbone Dog Harness Backpack is part of the animated harness collection and it is a cute take on the traditional dog harness.
It features dual zippered usable back pockets which can store food, water, and dog bowls inside easily. This harness has a soft to the touch micro-mesh and comes in multiple style choices.
The Petkit Air Quad Cushioned Dog Harness is meant for large sized dogs.
It features large clips that a will hold even large dogs with seat belt like straps for a guaranteed hold. Clipping a leash to the front of the harness is done for an almost guaranteed no pull. It also features a safety pull handlebar at the top for proper training.
The Touchdog Tough-Boutique Harness & Leash is the most trendy harness on our list.
It is available in a multitude of designs and colors for the perfect look. With its polar fleece lining you can expect your dog to be warm which it gently hugs the body. With its unique look and embroidered stamp of protection you can't go wrong with this harness.
The Dog Helios Tripod Superior Leash & Harness was made for its simplicity and comfort.
The design was made for a more evenly controlled and disturbed degree of pressure on the chest and bell area. This design also offers more free-range of motion than traditional harnesses. There is also an emergency hand at the top for quick rescues if need be.