10 Best Dog Boots 2021: Buyer's Guide
10 Best Dog Boots 2021: Buyer's Guide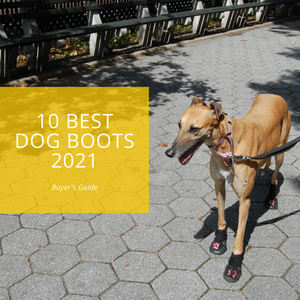 10 Best Dog Boots 2021: Buyer's Guide
While most pet parents leave no stone unturned when it comes to taking care of their dogs, many overlook one aspect - their feet. The paws of your furry friend are tougher than yours yet still require extra protection. Like any other organ of their body, the paws need proper care, which is why dog boots are becoming rapidly popular.
Although dog boots have been popular as a part of dog apparel, they are becoming more about utility than fun. There are various kinds of boots available on the market to protect your pet's delicate paws. Manufacturers are offering multiple footwear for different dogs based on their age and size.
Are you planning to buy boots for your furry friend and wondering how to choose the best from a wide range of options? Don't worry. We'll answer all your queries here. Read further to find the best shoes that will be perfect for your canines.
What are the best boots available on the market?
Finding the perfect dog boot can be a tiring task, especially when many different options are available on the market. To make you make a better selection, here are the top ten dog boots of the year:
My Busy Dog Secure Boots:
These snow dog boots are famous due to their extremely durable characteristics. Unlike several other versions on the markets, these are stitched together to last longer than those just glued down. The manufacturer uses high-quality materials while making the boots that would not swell up the pet's feet.
If you have a naughty dog that keeps getting out of the booties, this one can be an ideal pick for you. They have an anti-slip shield system on the inside to prevent your pet from slipping when jumping in puddles. These ridges often help your pet maintain footing on rocky terrain and offer traction while climbing.

The boots are designed in a way where it becomes easy to clean, and saves you a ton of time. Regardless of the season, these boots protect your pet's feet and keep them dry during outdoor adventures. These boots are a must-have accessory for when it is snowing outside as they continue to help and protect your pet's paws in even the worst weather conditions. The shoes offer your pup protection, whether you are taking them on a stroll in the snow or climbing up a mountain. They're dependable and tough enough to survive daily use.
Pros:

The boots provide an anti-slip grip.

 

The boot's upper part is waterproof.

 

It has velcros that fit perfectly.

 

The pet can wear it in multiple weather conditions.



 

Cons:

The velcro might irritate your dog's paws if worn without socks.



Canine Equipment Ultra Dog Trail Boots:

It is common for dogs to wander into the bushes and step in unpleasant swamps, or worse, sharp objects like thorns, shattered glass, etc. But with the Canine Gear Trail boot, you'll be able to keep those walking days fun and secure! The rubber soles on these booties can help keep sticks, thorns, and other debris out of your dog's paws, allowing them to walk alongside you with ease.

Each package includes four booties, but the posterior and front booties are measured differently to provide a better fit for your dog. Rubber soles offer excellent security against changing weather conditions, from colder fall months to sunny summer days. Besides that, they give an improved grip on almost every terrain.



The upper part is made of breathable and water-resistant textile fiber, ensuring your pet's paws don't get wet while crossing a puddle or in the rain. Thanks to the hook and loop closing mechanism, they're easy to get into and out of. Velcro closures have an adjustable but firm match, ensuring the boots don't come off mid-run. With sizes ranging from tiny to big pets, you'll be able to find the right fit for your furry mate.

 

Pros:

The upper portion is weather-resistant that makes it a long-lasting product.

 

Hook and loop closure make it convenient to wear and remove.

 

The boot is puncture-resistant, which protects the paws from blunt edges of rocks or glass.

 

Tread on patterns for more grip and friction.



 

Cons:

The closures aren't very durable and can wear off in a short time.



VetGood Basic Oversized:

The VetGood Basic footwear is a perfect option if your canine has a minor incision cut on their leg, has just undergone surgery, or requires a little extra support. Manufacturers created this product to offer protection for any soft bandage accidents. It's simple to use, helps you avoid regular bandage adjustments, and keeps your pet's paws clean no matter where you go for your everyday stroll. You may also use it to keep wounds from being licked, scratched, or chewed, which can cause infections in some instances.

One of the best aspects about these dog booties is that it comes in eight different sizes and has a safe closing mechanism that ensures a perfect match for either breed, big or tiny. It features a zipper at the top and a velcro band to prevent the boot from slipping down or the dirt from getting through.

The material of this boot is waterproof, despite being breathable, which is one of the reasons it's suitable for use when healing from minor surgeries or accidents. You won't have to think about getting it clean since the boot's surface is dust-resistant and machine-washable. However, you must buy these boots only if your furry friend suffers from the conditions mentioned above. These boots will keep them safe in almost every way.

 

Pros:

It provides unmatched comfort for your pet.

 

It protects your canine from injuries and takes care of bandages if it has any.

 

It is breathable and gives room for wounds to breathe.

 

 

Cons:

The boots can be a little expensive as they are designed to provide extra comfort to the injured puppies and dogs.

 

Pupwe Pet Booties:

The Pupwe Pet Booties are a versatile option. They are suitable for hot and cold seasons and come in various sizes. You can find the appropriate sizes for any dog ranging from pups to large breeds, regardless of their paw size. Consider them for keeping your furry friend healthy and warm, thanks to their stable fit, comfortable sole, and relaxing style!

The Pupwe Pet Booties have a durable anti-slip toe with textured tread on the heel, which keeps your dog's feet protected on hot sidewalks, gravel, or cold freezing weather. The tread pattern often improves grip when playing or walking on slick surfaces like tiles. Each winter pet boots comes with four paw protecting booties, ensuring that you get everything you require in one go.

With dog booties, the fit is everything, and Pupwe makes it convenient to slide your dog's feet into these booties. The bootie is made of leather, which gives it an attractive look, and the cotton helps keep your dog's paws cool and dry.

Pros:

The boots are durable and weather resistant and can withstand even extreme temperatures.

 

It has double hook and loop straps, which minimizes the boots from falling off or getting loose.

 

A powerful grip is one of the significant benefits. It makes sure that your dog doesn't slip and fall over steep places or stairs.


Cons:

The paws of your pet may become dry and rough after prolonged usage of the boots.

  QUMY Dog Shoes:

Since most of their designs are for bigger dogs, QUMY has become a familiar brand for pet owners with large breed dogs. When it comes to shoes, larger dogs have a minimal choice as most brands make shoes for puppies and small dogs who have delicate feet and need more protection. QUMY provides overall comfort to the feet of your pet. The impeccable design provides an excellent fit for large dogs and doesn't come off even in the most strenuous of circumstances.

These are a popular choice given the fact that they are easy to put on and remove. The opening is stretchy, enabling you to put it even on the most stubborn pets comfortably. The opening seams are separated and stretchable to prevent the boot from tearing when worn. Velcro belts are adjustable and hold the shoes in place and protect them from slipping off.

The interior of the boot is equally critical to keep the water or sand out of the boot. They have irregular patterns on the insoles so that your pet can ascend with as much strength and traction as possible. These rough outlines help walk on flat land since they keep your pet from stumbling as they get their paws muddy or dirty. The shoes come with several features that render them highly dependable under all weather conditions. They are weather tolerant, allowing rain or snow to stay outside of the shoe. They are durable and will survive any weather while ensuring your pet can wear them daily.

Pros:

 These boots come with sewn-in soles that keep them from wearing down.

 

 It has anti-slip soles to give your pet that extra grip.

 

 Unlike most brands, these shoes come in large sizes, making them ideal for big dogs.

 

Since the shoes are mainly made for giant dog breeds, they can easily adjust in paws of different sizes as the pup grows. It saves you from buying too many shoes.



 

Cons:

These shoes may be loose for pups and small breed dogs.



Expawlorer Waterproof Dog Booties:

Expawlorer is among the top brands that specialize in winter dog shoes. They make sturdy boots with a few extra features that allow them to stand out. Its supreme build quality is the first factor that makes it the best selection. They are made of a solid material that will enable them to last for a more extended period. Since these boots are water-resistant, you won't have to worry about normal wear and tear.

Every shoe features reflective lines that help you locate your puppy at night, especially if you're wandering in the wild. Furthermore, the boots have an ergonomic design that helps them fit comfortably on your dog's feet.

Each shoe is handcrafted and represents the manufacturer's excellent artistry. They're very flexible, hence easy and simple to put on. Furthermore, the shoes' flexible nature makes them very comfortable for your pets.



These shoes are easy to disinfect, which is a fantastic feature. You can simply wash them with lukewarm water and leave them to dry. However, it is not suggested to wash these boots with harsh chemicals because it can degrade the condition of the boots.

 

Pros:

The boots are effortless to wear. This boot will be a perfect choice for your stubborn furry friend.

The boots are designed in such a way that it fits perfectly for most of the pets.

They are comfortable and don't cause any irritation.



 

Cons:

The velcro strap can be a little problematic as it can cause irritation and skin problems in some pets.



Ruffwear grip trex:

Ruffwear is another company that has been making quality pet shoes and gear for many years now. They'll undoubtedly be an excellent choice for your puppy in the years to come, thanks to the high quality. They're renowned for equipping active pets with apparel that prioritizes comfort. The shoe materials are of a high standard and promise comfort. Dogs who are always out exploring need a pair like this to offer them the protection required while walking on rocky terrain.

This set has the extra benefit of being breathable. The shoe's surface is made of mesh, allowing air to enter and swirl through your pet's paws while holding dust out. The mesh also dries faster than any other component, reducing the odor from wet feet.

They are designed to be multi-functional. Since a dog can walk into many unexpected places, it's essential to have a shoe that protects your pet in rocky areas and rough slopes. The boot's exterior has rugged patterns that enable your dog to get the most grip without sliding. By investing in these boots, you enjoy a ton of features at a reasonable price. The stitching improves fit and allows you to quickly slip the boots over your dog's paws, while the smooth structure decreases the risk of abrasion.

 

Pros:

The mesh used in the boots makes footwear easy to clean and keeps them dry. It also makes room for air so that your pet's paws remain healthy.

 

The footwear is made of high-quality material that makes it durable and a good choice for all-terrain.

 

The sturdy grip allows the pet to climb steep slopes and rocky hills without any problem.

 

Cons:

The boots may irritate the pet as the footwear material can chafe the paws of your furry pet.

Bark Brite Neoprene:

Bark Brite is one of the best dog boots brands on the chart. They offer products for your puppy that are sturdy, practical, and flexible to every paw size. The brand has spent hours developing a high-quality rubber sole for safety after putting it to rigorous tests for performance and comfort. Each bootie features a gap along the rear for easier access inside and outside the shoe. They're designed with expanded ankle and double belt sealing to ensure they remain on and fit properly through strenuous playing sessions.

The Bark Brite Neoprene's sole has a slip-resistant rubber base with a herringbone groove for traction. The boot's fit is created with your puppy's paw in mind for exercise, allowing for movements and regular paw motions. This sole is anti-rupture and resistant to water and dampness, protecting the feet from sharp obstacles encountered outdoors.

It has a long split in the rear and stretched ankle to put it on conveniently. A dual lock and loop closing provide a secure but flexible fit, secured with velcro. The upper part is made of soft neoprene, which insulates and keeps paws cozy and breathable. There is a lighter lining on the inside that makes the booties more secure. These are worth the money if you notice yourself out on an adventure with your pet frequently!

 

Pros:

The shoes are made with reflective detail that is helpful during nights or camping with your puppy.

 

The boots come with dual velcro closure for extra safety.

 

A longer ankle shaft allows the boots to be worn without much problem.



 

Cons:

These boots may be a little challenging to fit on the pups or dogs with tiny paws. 

Kromi Dog boots:

The style is trendy and beautifully presented. The exterior of the boot has a vinyl overlay that makes it breathable. This boot's base is very thick, making it resilient against the environment and blunt stones. For pet lovers who are on the lookout for the ideal pair of shoes to shield their pet's feet from the weather, these Kromi boots will fit the criteria.

The reflective Velcro straps are the most visible element, making for a much smoother night stroll. Your pet will have a well-fitted boot and an additional layer of protection while out walking.

This boot is designed to withstand external elements. It has a coating that is extremely water and rain-tolerant. Moreover, the boot's sole is highly resistant to heat, ice, and blunt objects. On hot days, a sturdy sole can save the leather from burning or distorting. It would also save the shoe from stiffening when exposed to the sun.

In contrast to other substitutes, the price is marginally lower. This shoe protects your pet's feet from any chemicals applied on the pavement or lawn.

 

Pros:

The boots are anti-skid that provide proper grip in snow, mud, or wet surfaces.

 

The stretchable structure of the boots makes them very flexible and less prone to wear and tear.

 

They are waterproof and can withstand extreme wet conditions.

 

The high visibility of velcro allows them to be seen at night.

 

Cons:

The paws of your pet may become dry and rough after prolonged usage of the boots.



Union Rich Outdoor Running:

They are fantastic, trendy, and comfortable for your dog to run around in them. Your pet's paws would be safe and secure thanks to anti-skid, water-resistant, and wear-resistant material. The boots are reasonably practical as the shoe will hold dirt and sludge to a minimum. Washing them is simple as you can hand wash them and air dry. Nylon buckles secure the velcro straps for added stability and warmth. It's best for medium to big-sized breeds.

The velcro belts are held in place by the buckles. They'll help in the ankle region of the paws by giving adaptability and stability to prevent the straps from snapping.

The paws are a temperate region, and given the frequently changing weather conditions, one must undertake every care to secure the delicate paws. There are five sizes available for this product. Compared to other boots, they can better fit a heavy dog breed such as a labrador. 

 

Pros:

These shoes don't let dust and dirt stick on the surface.

 

The velcro straps provide added support and stability.

 

They are easy to wash and dry.



 

Cons:

Not suitable for smaller pets.



In conclusion

Most dogs walk barefoot their entire life without sustaining any injury, while some dogs sustain immense damage in their paws only after a few walks. If you wish to protect your pet dog's delicate feet and prevent any injuries, you must invest in quality dog boots. They will make your dog look trendy on the daily walks and keep them safe. When buying the right dog boots, you must carefully consider the material, fit, and design to offer maximum comfort. If you're having trouble finding the proper boots, you can choose any of the options listed above and make walks fun for your furry companion!